In the Media
View some of the media coverage and reviews SentryPC has received over the years.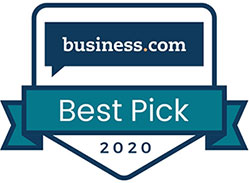 Business.com
2020
Business.com
SentryPC has been selected as one of Business.com's 'Best Picks' for Employee Monitoring Software for 2020.
Business.com evaluates the industry's best tools and services specifically designed to help businesses grow. All of the products are reviewed and selected by their team of independent researchers.
This will be the 4th straight year SentryPC has been selected for this award from Business.com!

About.com Editor
Marcy Zitz
SentryPC is reviewed at About.com
"SentryPC is a great all around Internet safety program for families. It offers several components that will allow you to customize it for each member of your family whether they are just going on the Internet for the first time or are Internet addicted teenagers.
Monitoring is where SentryPC really shines. It will record all keystrokes that are typed by each user, maintain a record of what windows were opened, applications that were executed, Web sites that were visited, and record everything said in Instant messaging."

Radio Host
Kim Komando
As shown in Kim Komando's new book "Guide to Computer Security & Privacy"
Kim Komando, popular radio host of The Kim Komando show, has listed SentryPC in her new book as a recommended product for monitoring and controlling childrens activities on the Internet.
Roughly 9.7 million people listen to her weekly on her radio show with another 4.7 million receiving helpful hints through her weekly newsletter!