Supervise your students' computer usage
Many schools today are incorporating computers into their classroom experience — some even providing laptops for students that can be taken home. With SentryPC installed you can eliminate questionable activities and enforce rules ensuring they are being used in a proper manner — for homework, research, studies, and so on. You control what your students can and cannot do on the computer along with detailed activity reports you can view at any time.
Activity Monitoring
Review your students' computer & Internet activities — everything they do is recorded in full detail for you to view later.
Activity Monitoring »
Content Filtering
Control what your students can do and when they can do it — filter applications, websites, keywords, chats, and more.
Content Filtering »
Time Management
Schedule what hours of each day they can use the computer — set daily and weekly total usage limits for each student.
Time Management »
Manage your students' activities anywhere at anytime
Easily manage your students' computer and Internet usage no matter where you, or they, are. SentryPC will work with computers in the classroom or 'take home' laptops provided to your students. Your web-based online account is accessible from any internet-enabled device so you can view activity logs and change settings whenever you wish.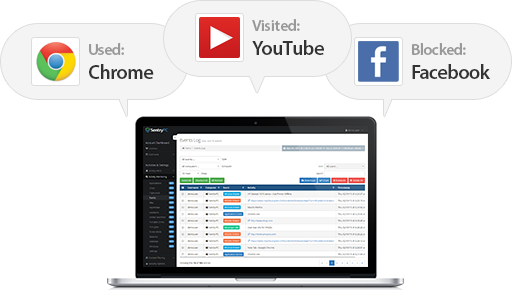 Plus these additional benefits included
SentryPC is an 'all-in-one' activity monitoring, content filtering, and control software. When used in your school and student environment you will have complete control over how they use their computers — ensuring they are being used properly and for the right reasons. Know your students are protected, responsible, and keeping up with their studies as intended.
Cloud-based control
Login to your account from any web-enabled device to remotely view logs and change settings.
User management
Manage any number of computers and users from one account for central management.
Detailed reports
All activity logs include complete details along with searching and sorting capabilities.
Instant alerts
Be alerted whenever questionable activity has occurred with exact details of the event.
Easy to use
Your online account is easy to use and navigate yet still provides extensive features and options.
Free updates
Updates are free for the lifetime of your subscription and can be downloaded at any time you wish.
How can SentryPC help your school?
Protect your students from today's dangers while ensuring productive study habits.
Cyber Bullying
Become aware of your students' social interactions online and prevent cyber bullying in its tracks.
Harmful Content
Filter what they can and can't do on the computer — eliminate inappropriate content from being accessed.
Study Habits
Ensure productive study habits by setting filtering and scheduling rules limiting their access to what you wish.
Take control of your students' activities today
Create a safe and productive study environment for your students with SentryPC.