Monitor. Filter. Control.
Protect, understand, and manage your users' computer and mobile activities anytime... anywhere... as they happen.
SentryPC supports all your devices!
Remotely monitor, filter, and control all user activity
SentryPC is a completely cloud-based activity monitoring, content filtering, and time management software wrapped into one. Whether you are a concerned parent looking for parental control software or business looking for employee monitoring software — SentryPC is your answer!
Record their activities
Every activity your users perform on the computer or phone is recorded in real-time and in full detail for viewing — you will know exactly what they did and when they did it.
Filter their content
Filter applications, games, websites, and keywords for all users — completely block content or choose specific hours of the day it is allowed / blocked for each user.
Schedule their usage
Control when the device can be used by creating daily schedules — select what hours of each day usage is allowed and set maximum usage limits for each day or the week.
Easy to use interface accessible from anywhere
Login to your secure cloud-based account from any web-enabled device, at any time, from anywhere. Once SentryPC is installed on the computer or phone you never need to access it again — all activity logs, reports, charts, downloads, settings, and more are accessed in your account.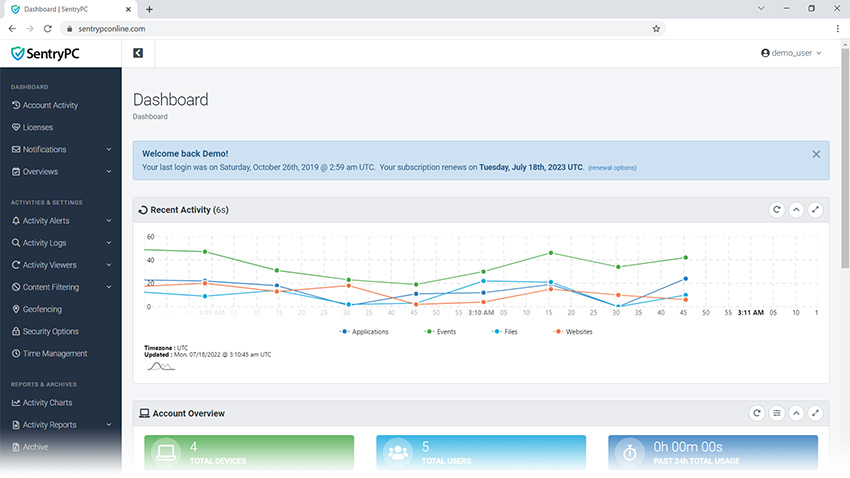 Dashboard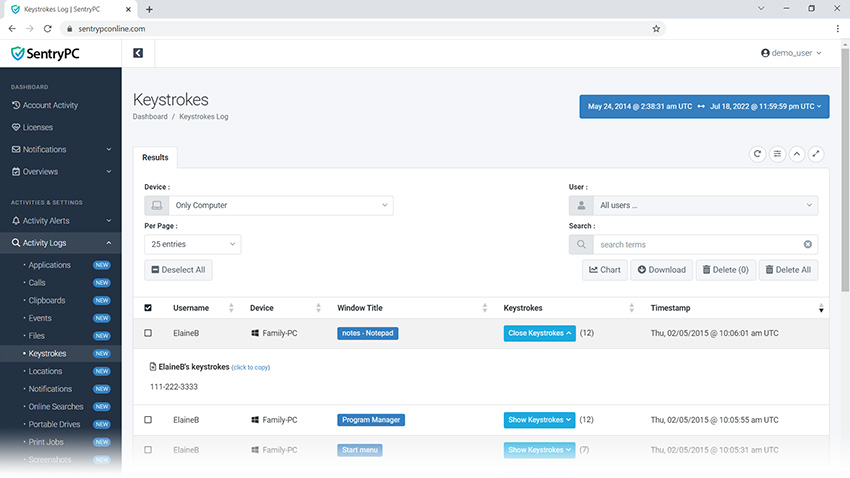 Keystrokes Log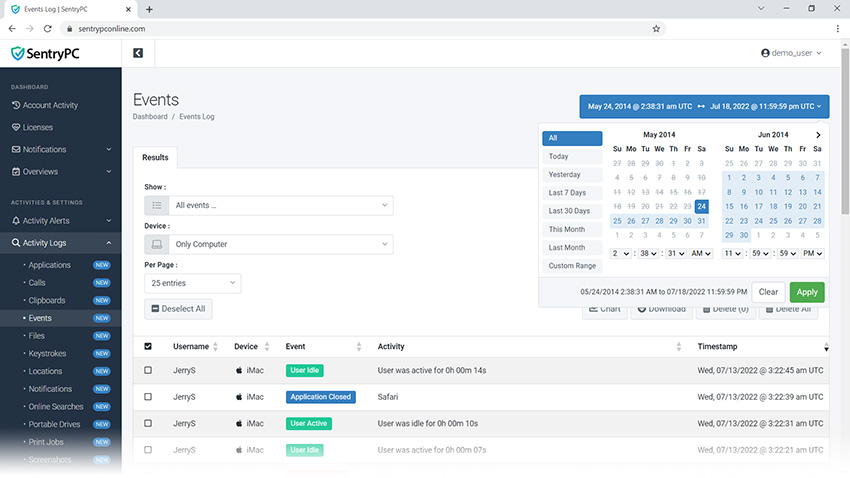 Date/Time Range Selection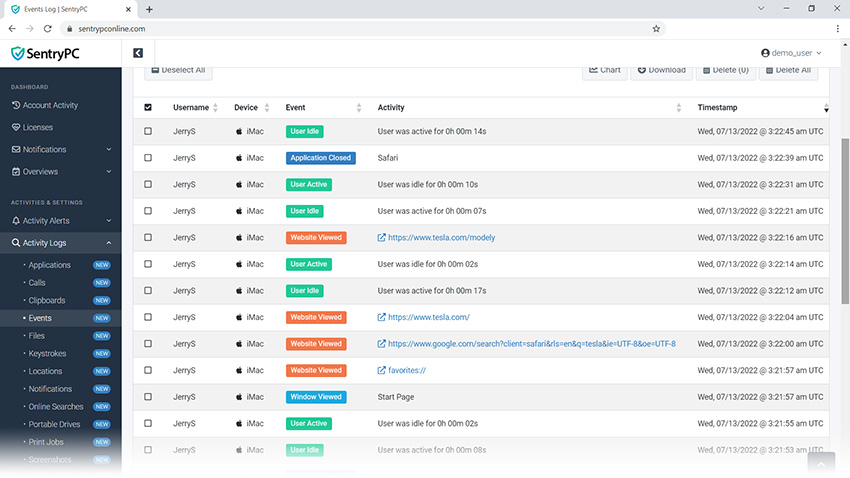 Events Log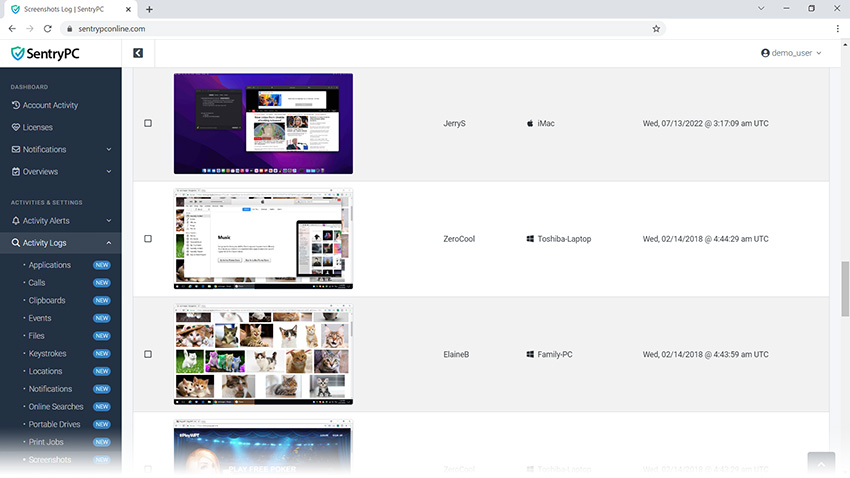 Screenshots Log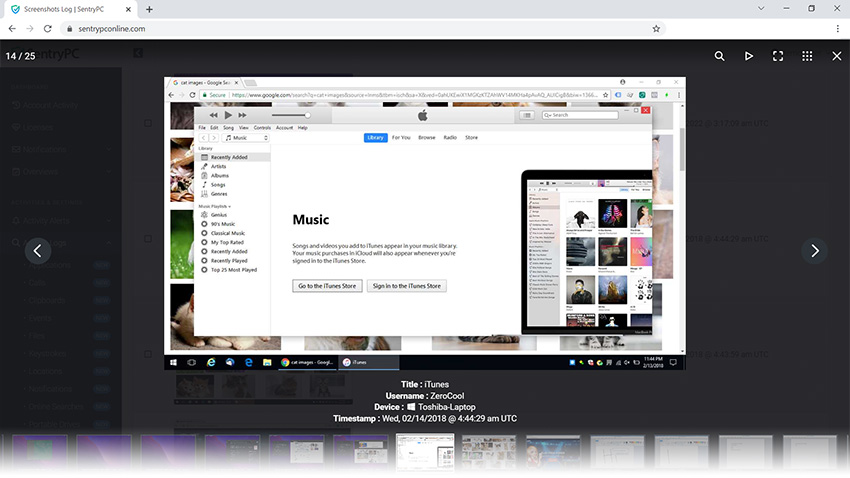 Screenshots Log (detail)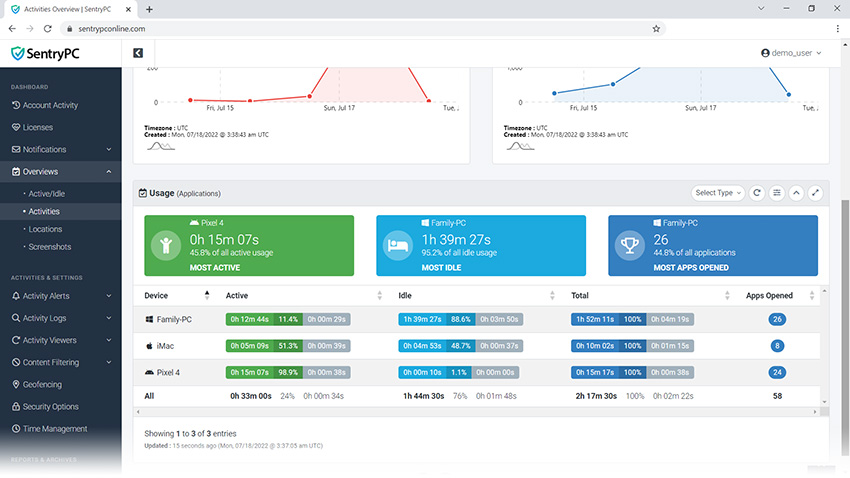 Activities Overview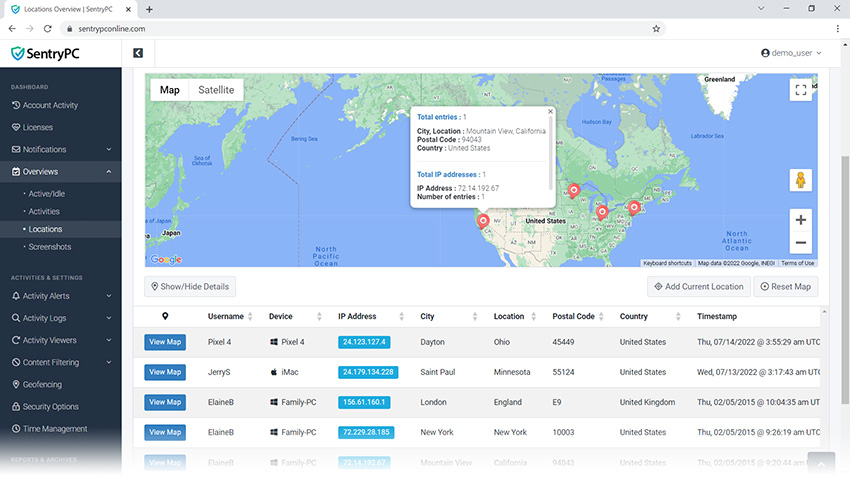 Locations Overview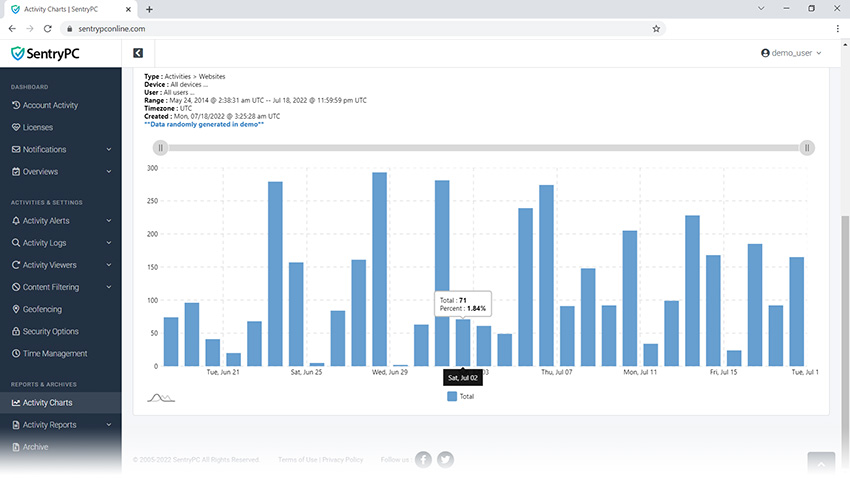 Websites Chart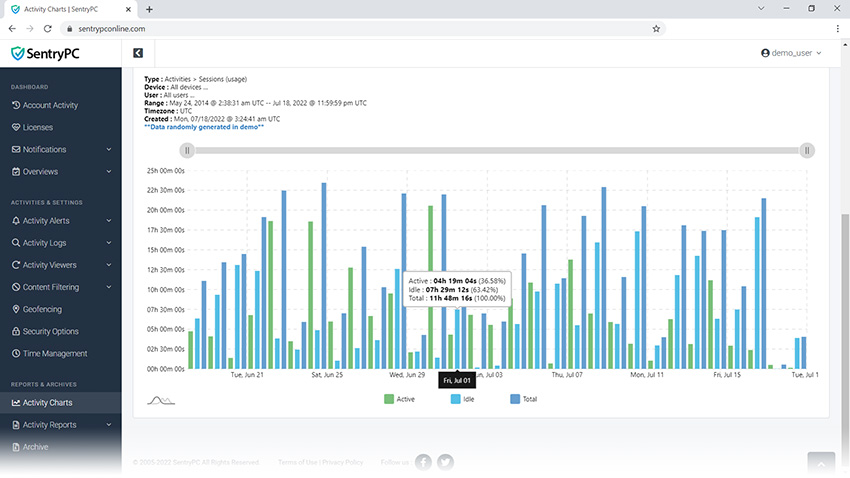 Sessions Chart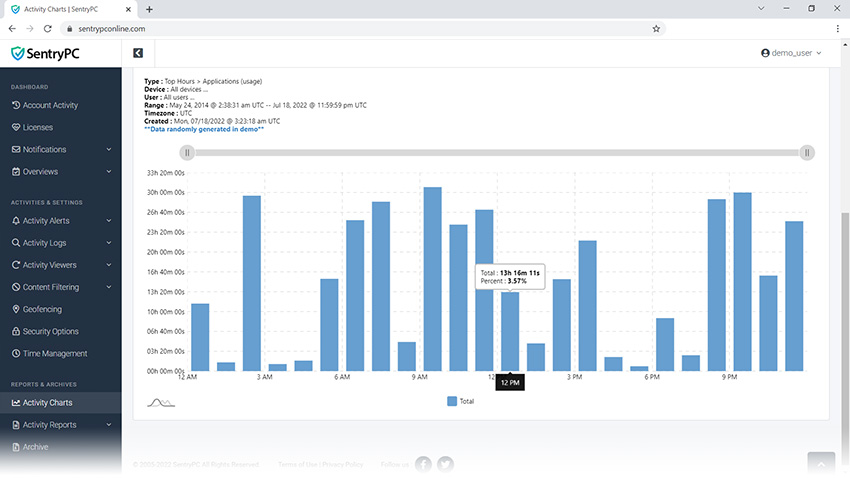 Applications Chart (top hours)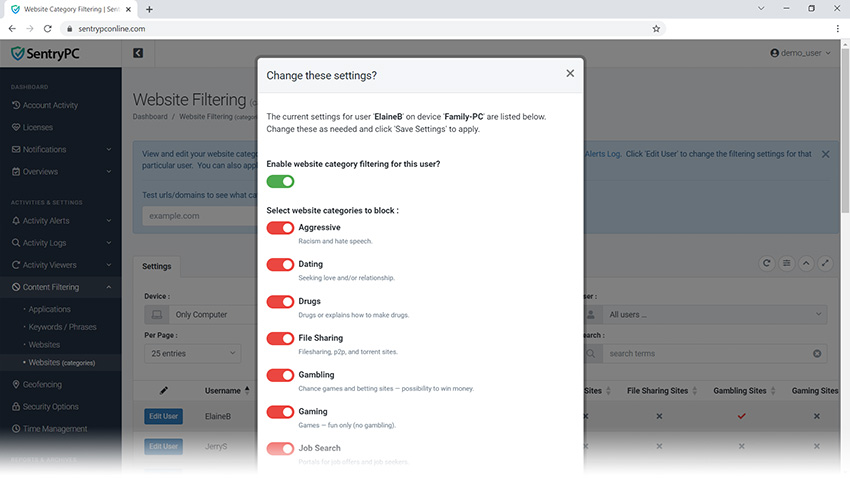 Website Filtering (categories)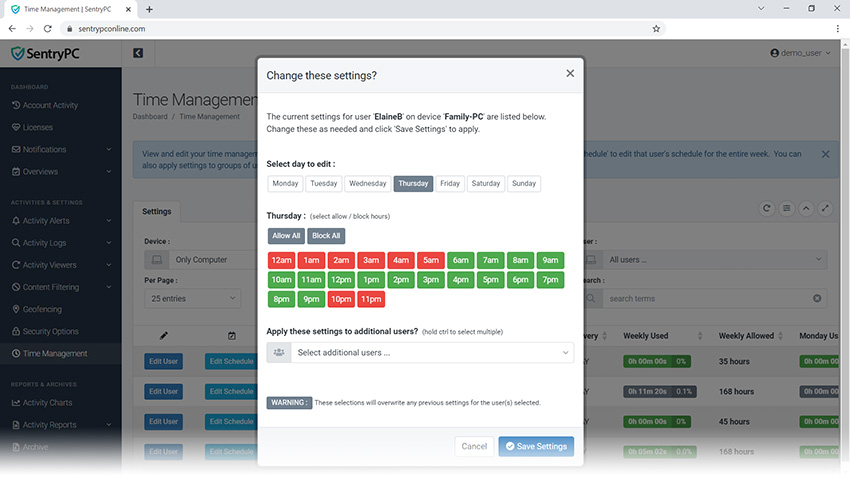 Time Management (weekly schedule)
Feature packed with everything you need and more
Stop guessing and start knowing exactly how they use the computer, phone, and Internet in full detail. See what applications they use, who they talk to, what websites they visit, and much more. Eliminate questionable activities through extensive content filtering rules and enforce usage limits with SentryPC's time management features for further control over your users. SentryPC has been the leader in user activity monitoring and control for over years!
Cloud-based account
Login to your secure online account from any web-enabled device to remotely view activity logs and change settings of any user.
Device compatibility
SentryPC is compatible with Android, Chromebook, Mac, and Windows — use SentryPC on all your devices.
Real-time viewing
View user activities in real-time, as they happen, right in front of your eyes — apply user settings instantly to the remote computer.
Stealth operation
SentryPC operates in complete stealth unknowingly to users of the computer — optional warning messages can be shown if you wish.
Central management
Manage any number of devices and users from your cloud account — even if they are spread over different locations and networks.
Activity alerts
All blocked activities are recorded in full detail for your viewing — easily see when users attempted an activity which you have filtered / blocked from use.
Top usage reports
View in-depth usage reports detailing what activities are occurring the most and by what users — instantly see which users are most active.
Visual charts
Create easy to view visual charts from your recorded activities — customize your charts with extensive display and selection options.
Activity overviews
Quickly see how active your devices, users, and entire account is at any time without browsing through detailed activity logs.
Download archives
All activity logs stored in your cloud account can be downloaded for offline use anytime you wish — filter by devices, users, and time.
Easy to use
After SentryPC is installed you never need to access the device again — activity logs and user settings are handled in your web-based account.
Free updates
Updates are free for the lifetime of your subscription and can be downloaded at any time — there are no upgrade fees or hidden costs.
Geofence
Create a virtual fence around a 'home' address/location with a distance you specify.
Accurate location
Geolocation of the computer is constantly updated and viewable in map form.
Enter/exit alerts
Alerts are created when the computer enters/exits the geofence you created.
Applications
Block any application from use entirely or only during specific hours and days you choose.
Keystrokes / phrases
Prevent specific keywords and/or phrases from being typed — phone, address, name, etc.
Websites
Block any website / url from use entirely or only during specific hours and days you choose.
Security restrictions
Block features such as the control panel, network, task manager, and others from use.
Alert notifications
Optionally be alerted by email whenever a filtered activity has been attempted by your users.
Daily schedule
Select specific hours for each day of the week the computer can be accessed and used — set a daily maximum usage limit.
Weekly schedule
Create a weekly schedule defining when the computer can be accessed and used — set a weekly maximum usage limit.
Activity usage
Easily view how long each user has been using the computer as well as how much time they have left if being limited.
Who is using SentryPC?
SentryPC is being used in homes, businesses, schools, and many others where activity monitoring, filtering, and scheduling of computer and mobile users is needed.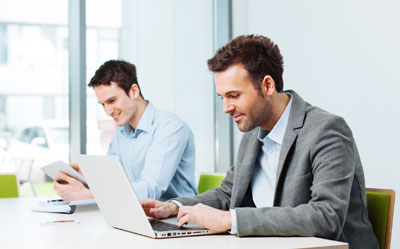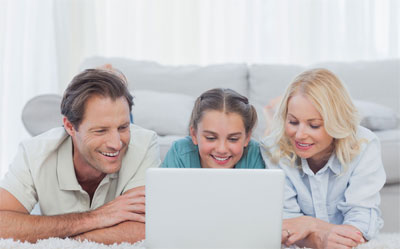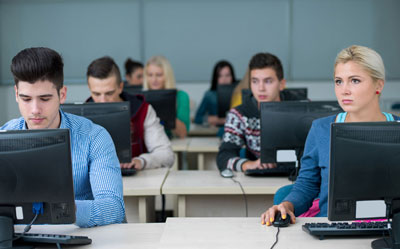 Choose from above to see what SentyPC can do for you!
It only takes a few minutes to get started
After installing just sign in to your account to view activity logs and change settings — that is it!
1
Download
Your download is available immediately after purchase.
2
Install
Step-by-step instructions walk you through installation.
3
Sign in
Change settings and view user activities from anywhere.
Take control of their device activity today
I've tried quite a few parental control apps over the years and SentryPC is by far the BEST!
I never imagined this would be soo easy to use… I was setup and monitoring my employees in no time!
I love the fact I can use SentryPC on their computers and phones. I've told all my friends!
We are extremely pleased with SentryPC — it is proving to be a tremendous asset for us!
You guys did a fantastic job with the online account — love the features and options!