Protect your children
SentryPC is used by parents worldwide for monitoring, filtering, and controlling the computer & mobile activity of their children.
SentryPC supports all your devices!
The parents' choice for parental control software
Put your mind at ease knowing exactly how your children use their computer, phone, or tablet in full detail. See what applications they use, who they talk to, what websites they visit, and much more. Virtually every activity performed on the device is recorded for later viewing. Eliminate questionable activities through extensive content filtering rules and enforce usage limits with SentryPC's time management features. You control what your children can do and when they can do it with detailed logs of all their activities.
Activity Monitoring
Keep tabs on what your children do while on the computer, phone, & Internet — everything they do is recorded in detail for viewing.
Content Filtering
You control what your children can do and when they can do it — filter applications, websites, keywords, and much more.
Time Management
Schedule what hours of each day they can use the device — set daily and weekly usage limits for each of your children.
Manage your children's activities anywhere at anytime
Easily manage your children's computer, phone, and tablet usage no matter where you are. Your web-based account is accessible from any internet-enabled device be that a computer, phone, tablet, or other so you always have access — from home, work, or even the other side of the world.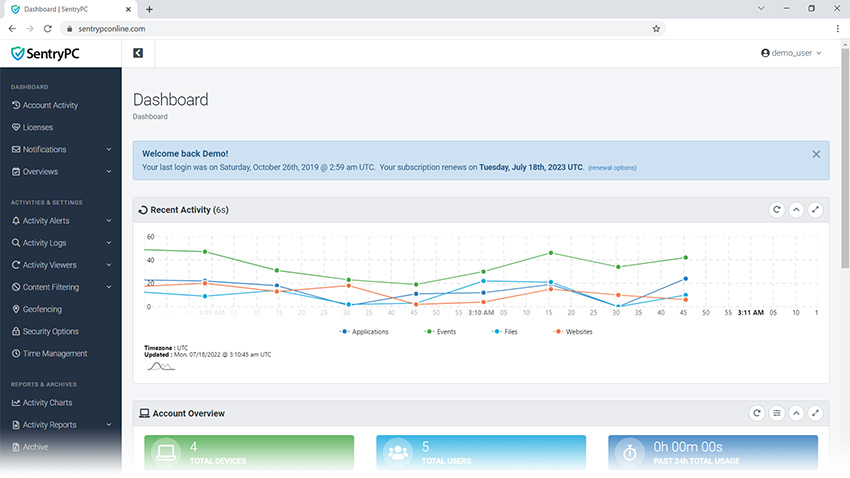 Dashboard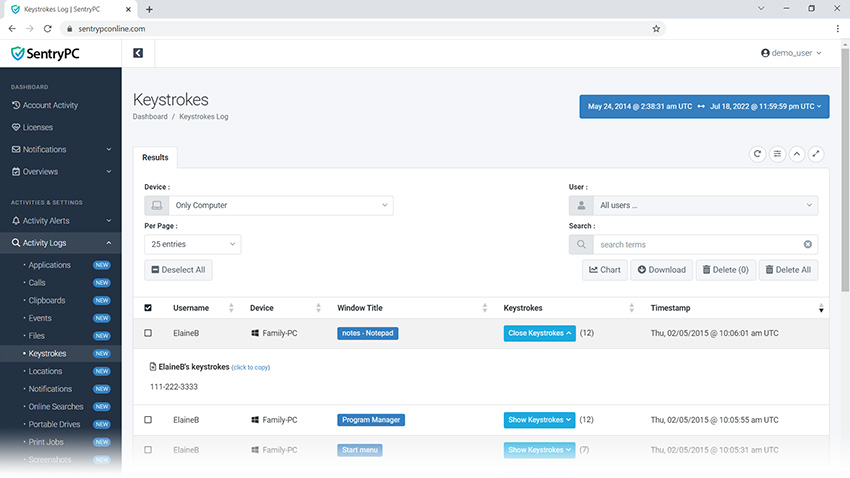 Keystrokes Log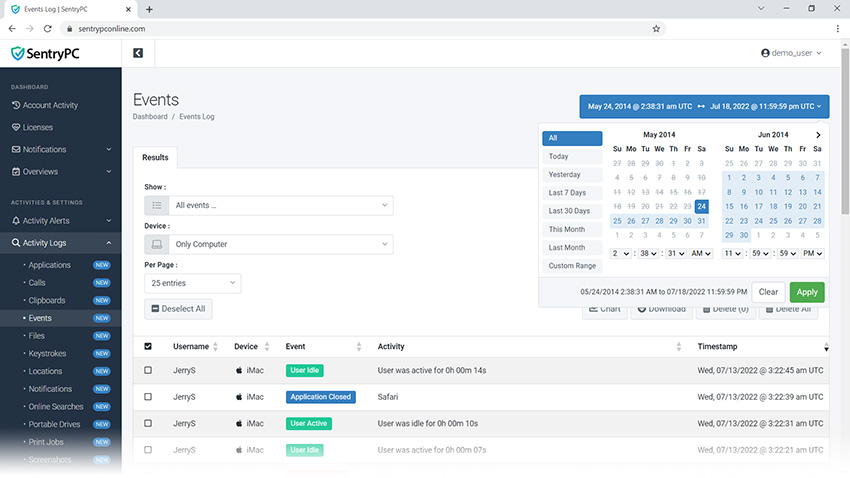 Date/Time Range Selection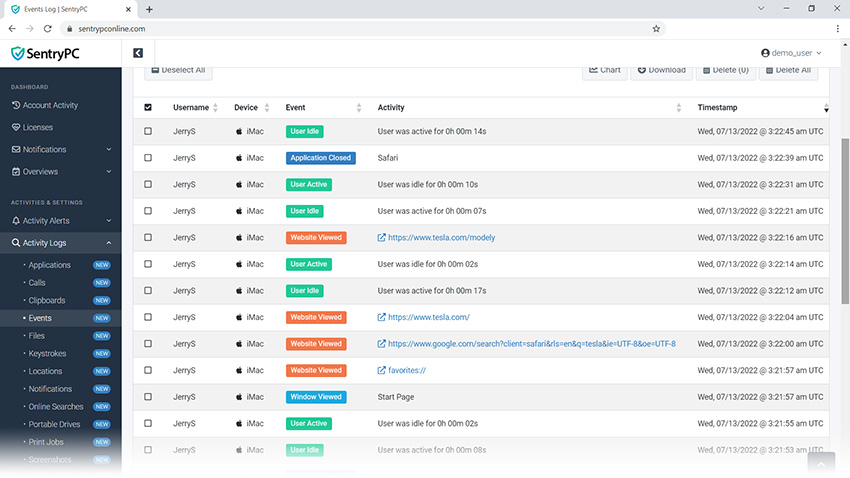 Events Log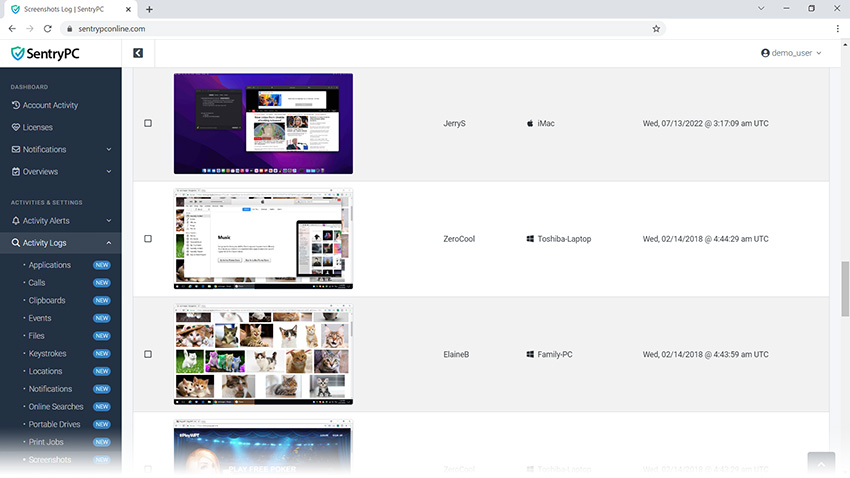 Screenshots Log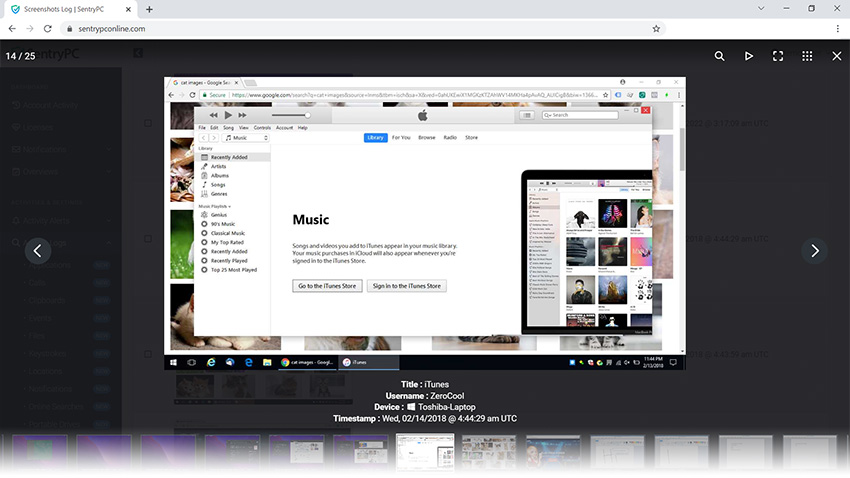 Screenshots Log (detail)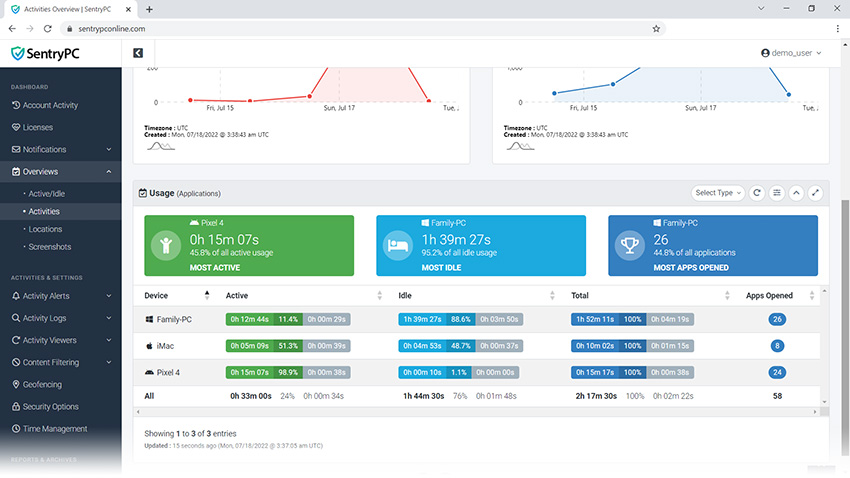 Activities Overview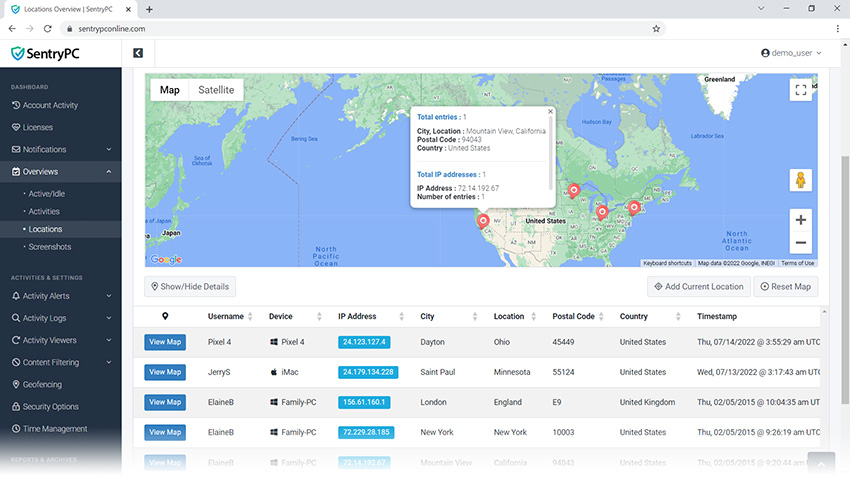 Locations Overview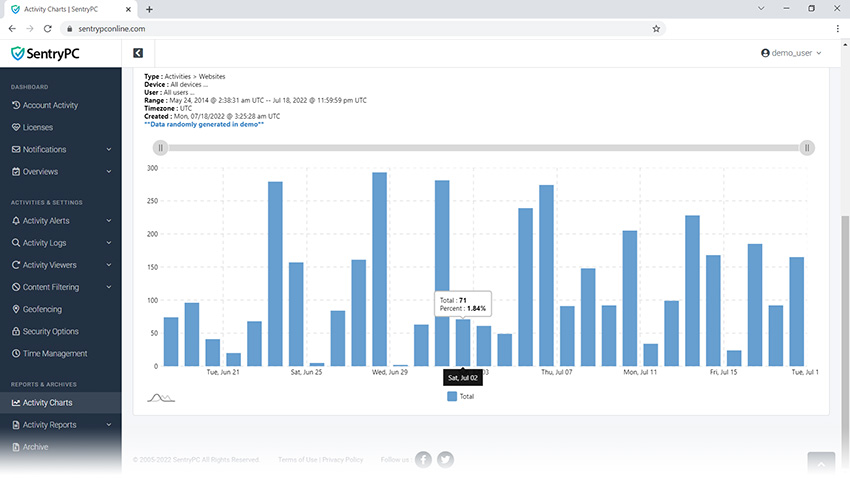 Websites Chart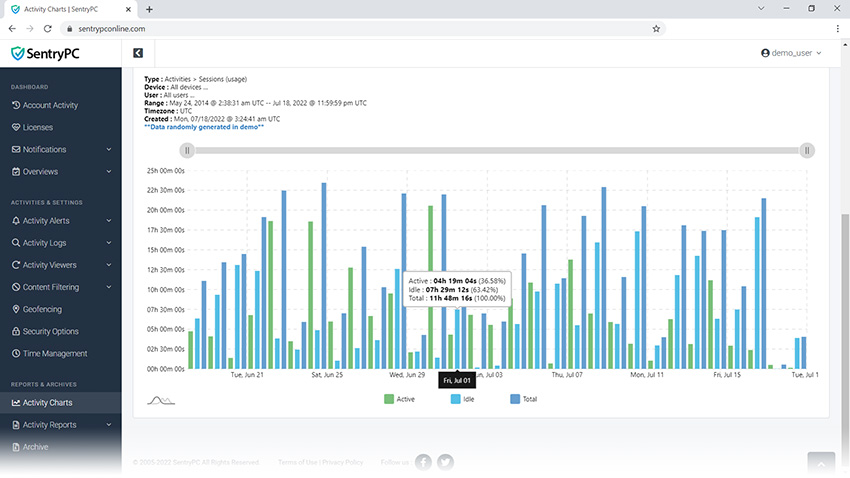 Sessions Chart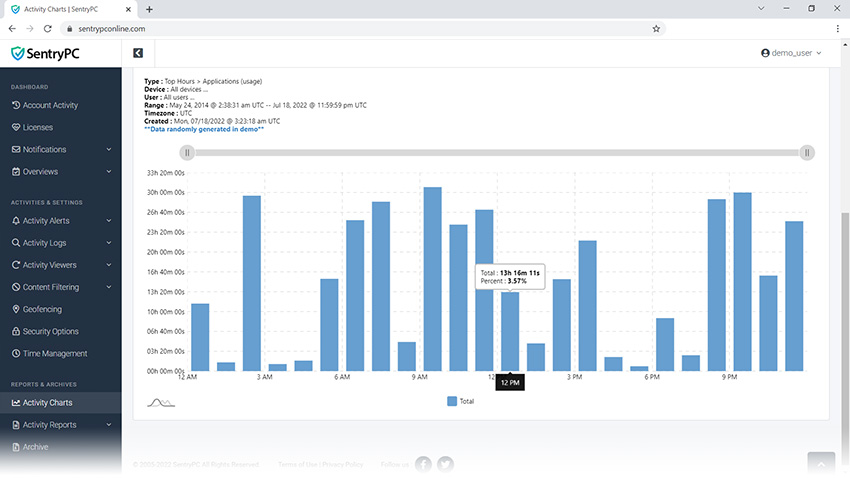 Applications Chart (top hours)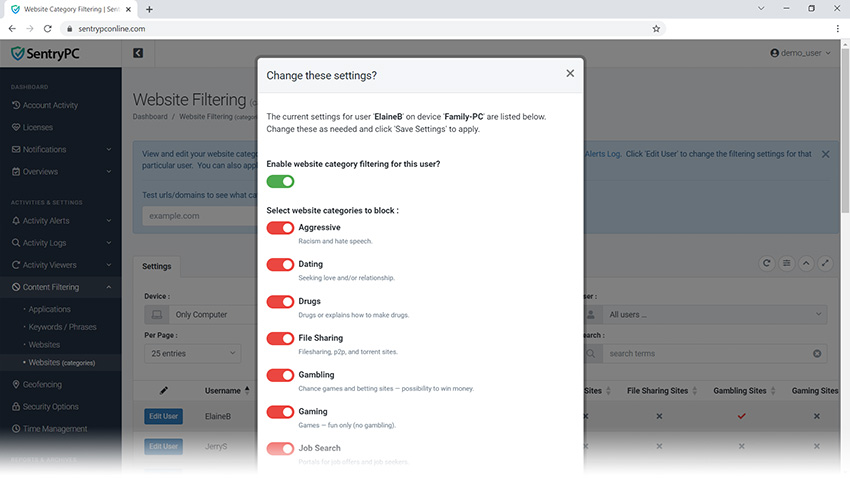 Website Filtering (categories)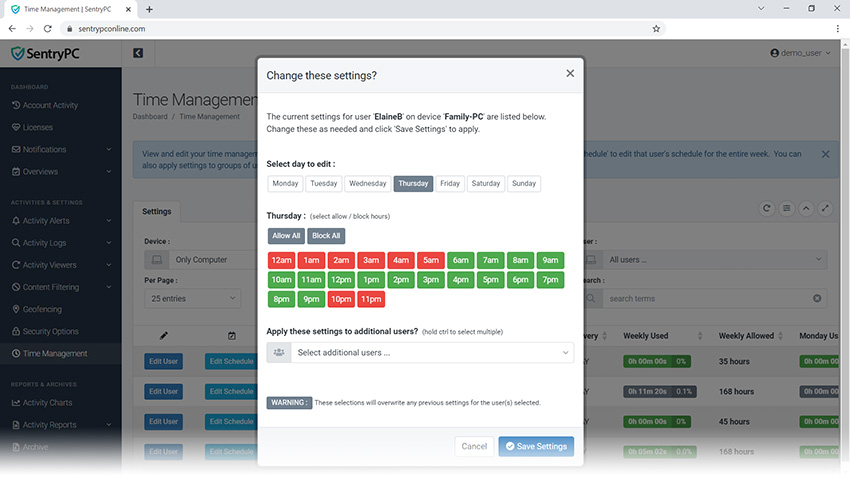 Time Management (weekly schedule)
Plus these additional benefits included
SentryPC is a feature packed parental control software for concerned parents looking to manage their children's computer, phone, and tablet activities. See how they use them, set responsible time limits, block questionable activity, and monitor for signs of cyberbullying and online predators. Know your children are safe, protected, and responsible while using their device and Internet.
Cloud-based control
Login to your account from any web-enabled device to remotely view logs and change settings.
Device compatibility
SentryPC is compatible with Android, Chromebook, Mac, and Windows — use SentryPC on all your devices.
Real-time operation
View your children's device activity, as it happens, and apply settings instantly.
Detailed reports
All activity logs include complete details along with searching and sorting capabilities.
User management
Remotely manage any number of devices and users from your secure cloud account.
Visual charts
Create easy to view visual charts from your recorded activities with extensive options.
Instant alerts
Be alerted whenever questionable activity has occurred with exact details of the event.
Easy to use
Your online account is easy to use and navigate yet still provides extensive features and options.
Free updates
Updates are free for the lifetime of your subscription and can be downloaded at any time you wish.
How can SentryPC protect your family?
Start protecting your children from the numerous dangers today's technology exposes them to!
Cyber Bullying
Become aware of your children's social interactions online and prevent cyber bullying in its tracks.
Harmful Content
Filter what they can and can't do on the device — eliminate inappropriate content from being accessed.
Online Predators
Protect your children from predators trying to gain personal information and interaction with your children.
Take control of your children's activities today
Manage and protect your entire family with SentryPC parental control software.