Employee Monitoring
Gain full visibility and control over your employees' computer activities — secure your data and increase overall productivity.
Windows 11, 10, 8, 7, Vista, XP, NT, and 200x
Mac OS X 10.6+ and all macOS
Stop worrying and start monitoring their usage
SentryPC shows you exactly how your employees are using the computer and Internet in full detail allowing you to identify and resolve issues before they become problems. Block access to social media, news, stock, and other websites. Block access to applications, games, and specific keywords. Knowing how your employees use their computers allows you to eliminate inappropriate usage and other time wasting activities.
Employee Monitoring
Monitor everything your employees do while on the computer & Internet — everything they do is recorded in full detail for you to view.
Activity Monitoring »
Content Filtering
You control what your employees can do and when they can do it — prevent inappropriate use by filtering applications, websites, and keywords.
Content Filtering »
Time Management
Create weekly schedules that define when your employees can use the computer — ensure that everything they do is during 'working' hours.
Time Management »
Monitor your employees' activities anywhere at anytime
Easily monitor all the computers in your organization, and your employees, from one central location. Your secure web-based account is accessible from any internet-enabled device giving you access at any time no matter where you may be. With SentryPC's real-time operation you can view activities as they happen as well as change settings instantly.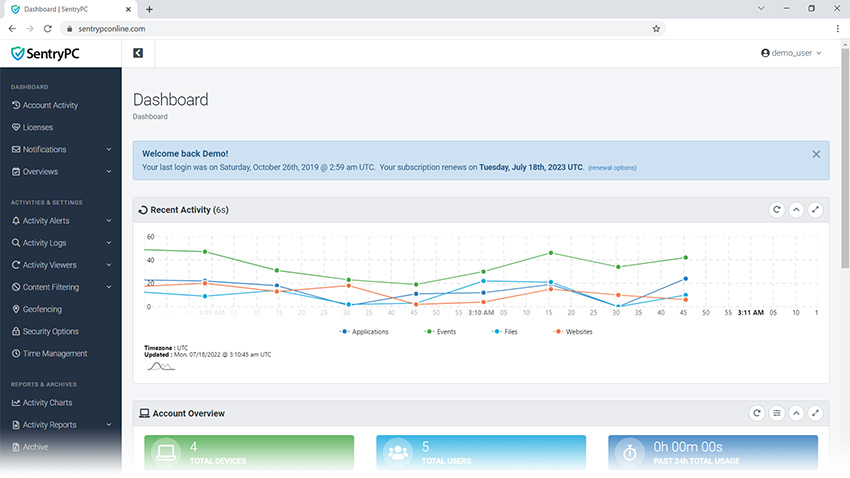 Dashboard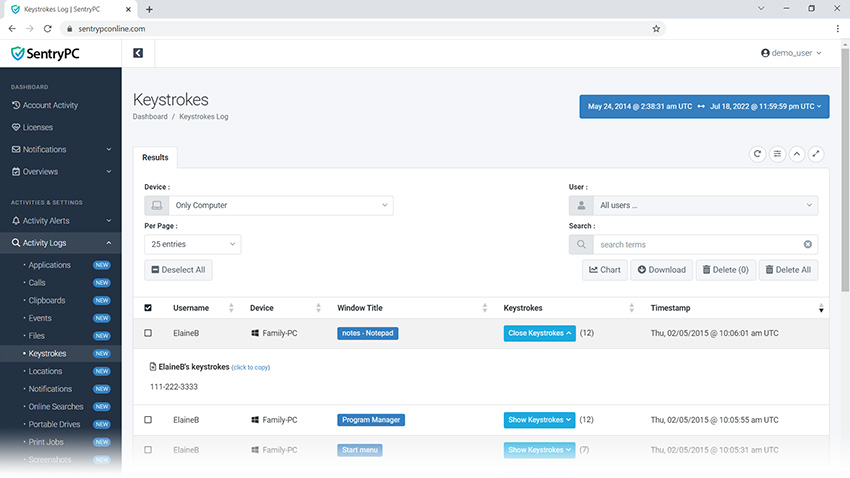 Keystrokes Log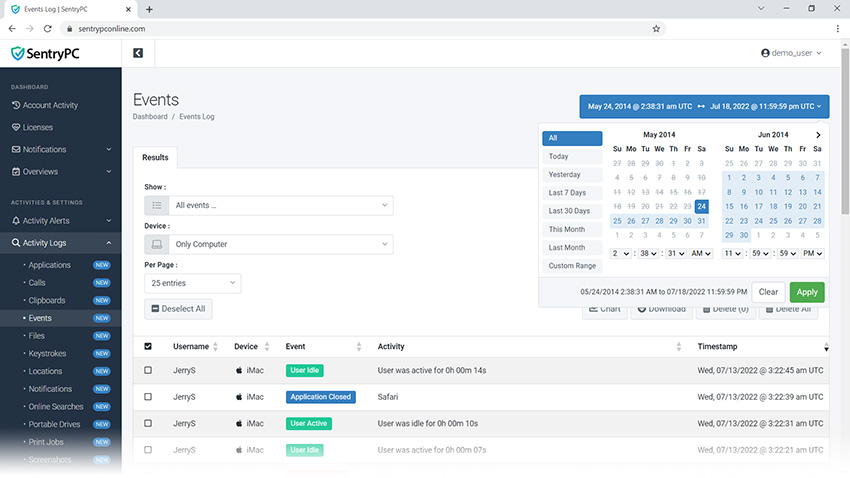 Date/Time Range Selection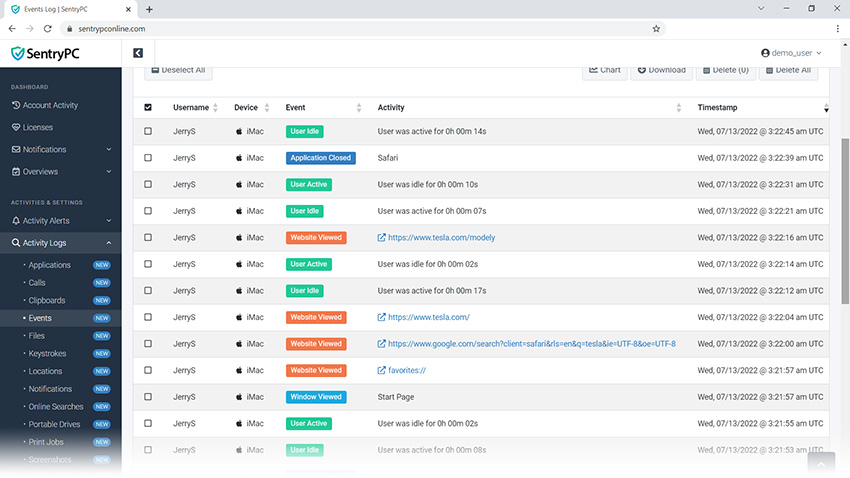 Events Log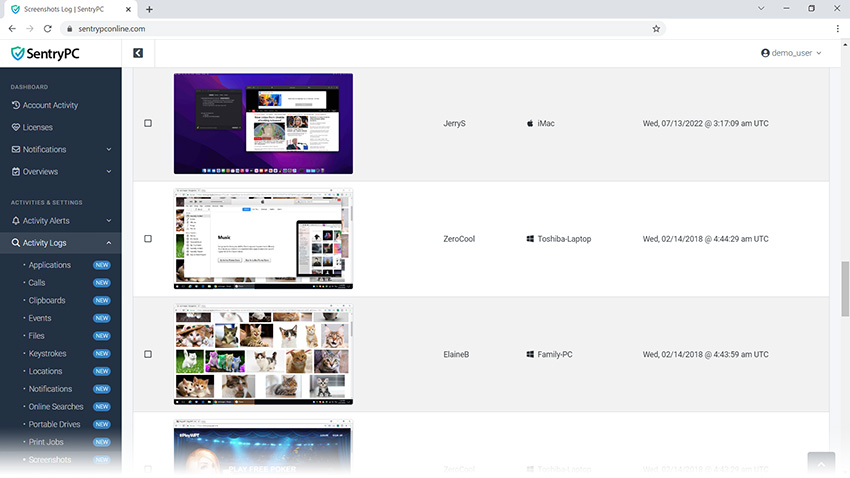 Screenshots Log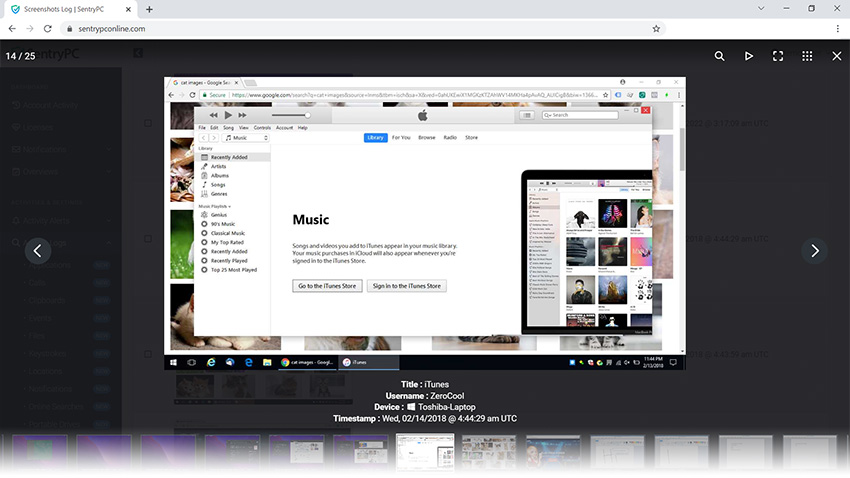 Screenshots Log (detail)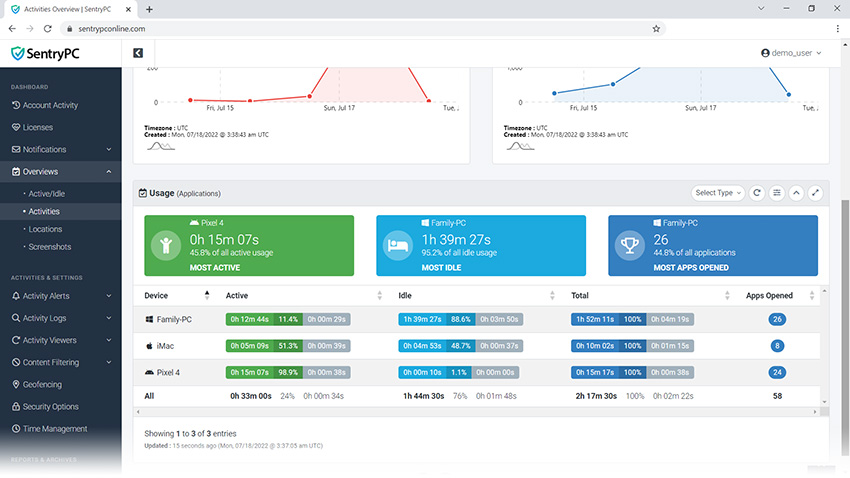 Activities Overview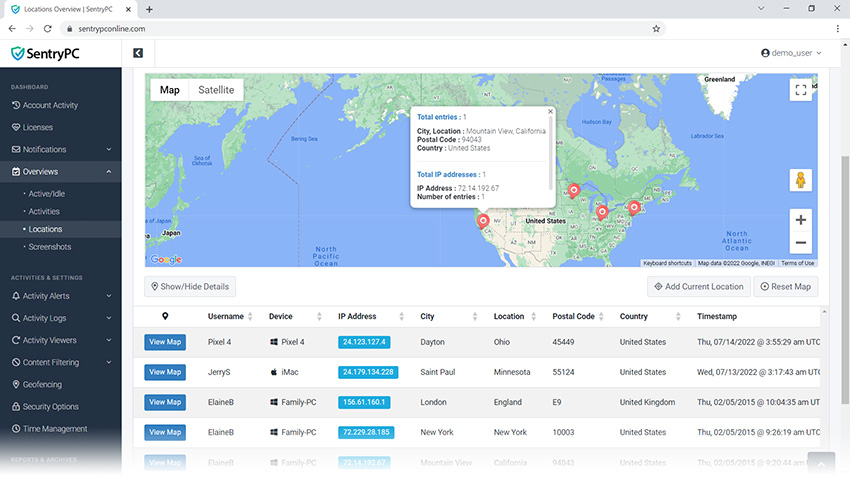 Locations Overview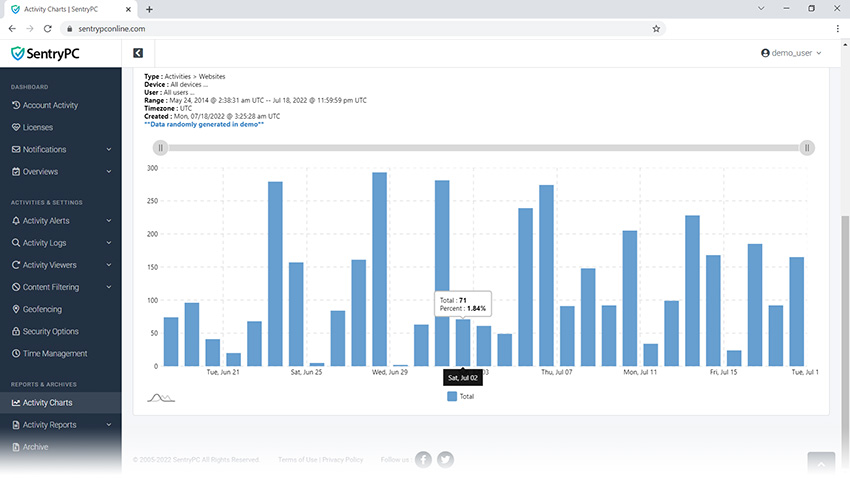 Websites Chart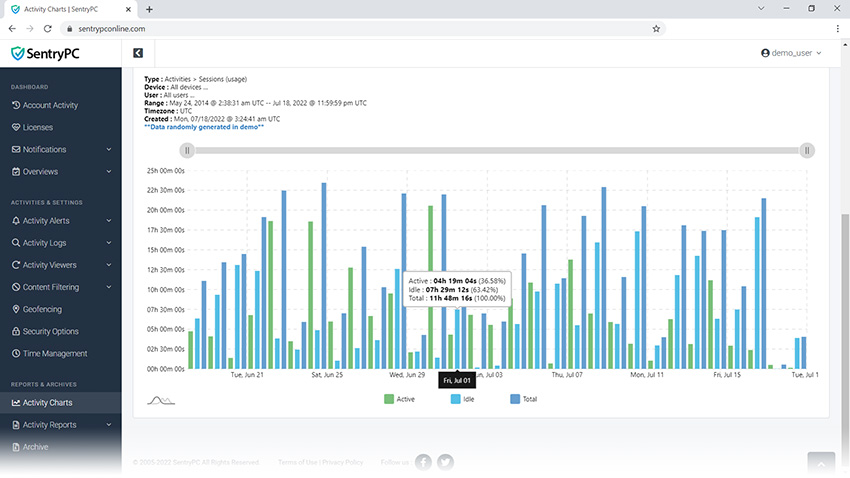 Sessions Chart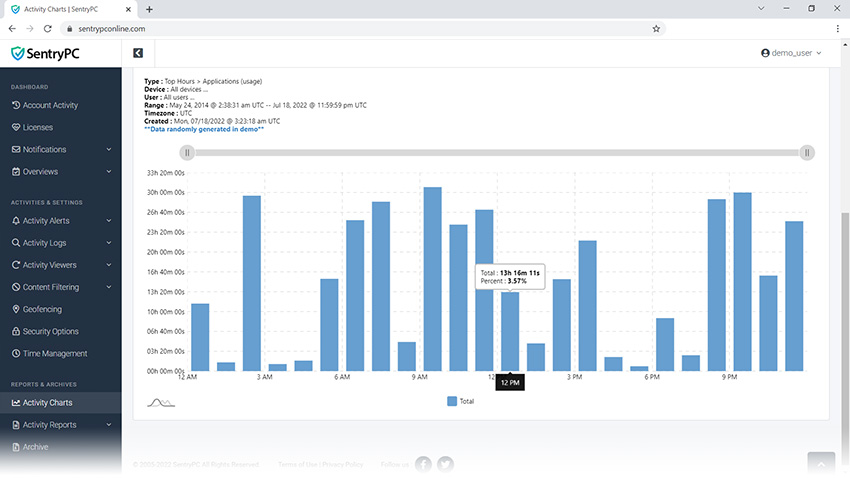 Applications Chart (top hours)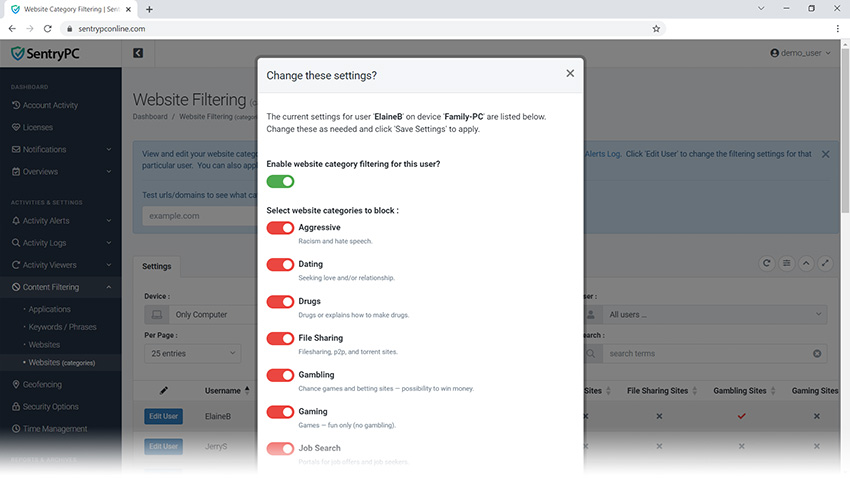 Website Filtering (categories)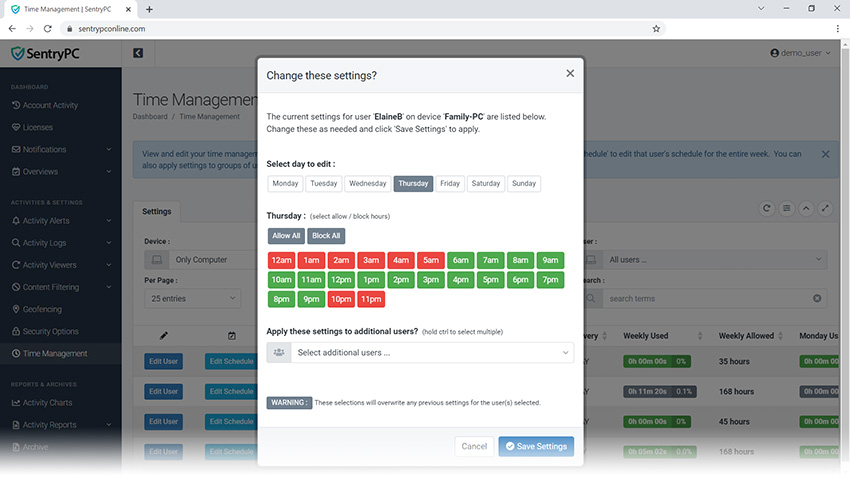 Time Management (weekly schedule)
Plus these additional benefits included
SentryPC employee monitoring software is a complete solution including all the necessary features for properly managing your employees' computer activities, Internet usage, and their productivity. Easily integrate SentryPC into your organization and let it do all the heavy work while you focus on what matters.
Cloud-based control
Login to your account from any web-enabled device to remotely view logs and change settings.
Windows & Mac
SentryPC is compatible with both Windows and Mac and can be installed on either OS.
Real-time operation
View activities in real-time, as they happen, and apply settings instantly for any user.
Detailed logs
All activity logs include complete details along with searching and sorting capabilities.
User management
Manage any number of computers and users from one account for central management.
Visual charts
Create visual charts from your recorded activities with extensive display and selection options.
Instant alerts
Be alerted whenever questionable activity has occurred with exact details of the event.
Easy to use
Your online account is easy to use and navigate yet still provides extensive features and options.
Free updates
Updates are free for the lifetime of your subscription and can be downloaded at any time you wish.
What can employee monitoring software do for me?
SentryPC can enhance your overall business operation in a number of ways.
Increase Productivity
SentryPC will increase employee productivity — saving you money while more work is completed.
Secure Data Assets
Ensure confidential data and company information is not leaked to outside parties and competitors.
Employee Investigation
Conduct employee investigations by reviewing and monitoring computer and Internet usage.
Start monitoring your employees' activities today
View our discounted volume pricing plans available for both small and large organizations.